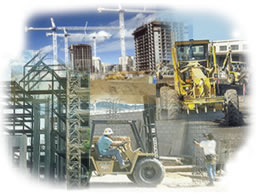 SNS was established in January 1997, and we are committed to giving our customers the most for their NTO dollars by offering low-priced NTO packages without sacrificing the "extras"- accuracy, timeliness, and personal service. Our staff at SNS works closely with customers, and responds to their needs with new services. We are constantly striving to better serve our customers by expanding our range of services to make certain you are getting as much as you possibly can for your NTO dollars.
At SNS, our first priority is protecting YOUR lien rights, and we prepare each of your Notices to Owner with that in mind. During the research/service process, we'll keep in close touch with printed reports on liens already in place and other information regarding your jobs that may be of concern (i.e. unclaimed NTO's etc.). We'll keep you informed with updates on changes in the Construction Lien Law, which affect you and your business, and we'll always be available to help you resolve questions you may have. In the event you need to carry the NTO/Lien process into foreclosure, we'll be happy to refer you to counsel.
---
SNS will prepare and serve your Notices to Owner for construction projects in any Florida county. Simply utilize our On-Line Database, fax or mail your request listing your customer and job-site address to our research center, and SNS will do the rest - determine the legal description and ownership of the property, determine who should receive the Notice to Owner, and send the copies via certified mail - within 7 to 10 business days. Once they're signed by the recipients, the return receipt cards (green cards) will be sent directly to you by the postal service, or you may sign a waiver to eliminate the green return receipt cards and we will log the certified NTO's sent.
NOTICE TO OWNER
About SNS
Basic Services
---
RUSH SERVICE (Additional Cost)
The same service as our regular Notice to Owner, but we'll begin processing your request as soon as we receive it, and complete it within 48 hours. Please allow time after the Notice to Owner copies leave our office for mail delivery.
---
LIEN REPORT
WHAT WE CAN DO FOR YOU
In the process of preparing your Notices to Owner, SNS researchers may discover liens already in place on properties you are working on. We will forward a report listing the lienors, dates, and amounts of the liens along with your copy of the Notice to Owner at NO EXTRA CHARGE to you.
---
CLAIM OF LIEN
SNS can help you continue the Notice to Owner/Lien process by preparing and recording your Claims of Lien. Simply provide us with your job completion date, your total contract and unpaid amounts, and a copy of your Notice to owner (if you were required to serve one), and we'll prepare the document, record it in the clerk of court's office in the proper county, and serve copies on the parties involved.
---
NOTICE OF NONPAYMENT
If you are working on a bonded project and must notify the surety company that you will be relying on the payment bond for payment, SNS can prepare and serve your Notice of Nonpayment based on your job completion date, the unpaid amount on your contract, and information from your Notice to Owner.
---
OWNERSHIP UPDATE
In the event that you need to verify your Notice to Owner information before liening a property, to check for Notices of Termination, or other new liens, SNS can re-research your request for updated information.
---
CONSTRUCTION LIEN LAW UPDATES
The Construction Lien Law is continually revised by the Florida State Legislature, and it's important to keep up to date on the changes made, and how they will affect you and your business. SNS keeps in close contact with attorneys who advise us on changes made during each session. When we learn of these changes, we will notify you. Additionally, SNS hosts an annual lien law seminar for its clients. Simply contact our office to indicate your interest and we will notify you of the date and cost.
In the event you cannot allow time for mail delivery, SNS will process your request within 48 hours and serve the copies via an overnight delivery service. We will follow up with the delivery service the next business day to make certain all copies were served properly, and forward the delivery tickets to you.